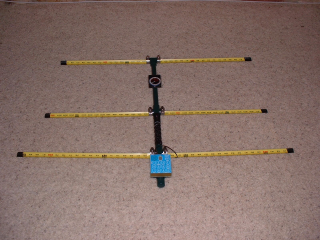 Ken's yagi antenna used for two meter radio orienteering.
October 23, 2004
Jen and I traveled to northwest Louisiana to participate in a one-day ARDF meet being put on by the Ark-La-Tex Orienteering Society (ALTOS). AlthoughJen and I have been orienteering for years, we'd never been to an ALTOS event before - the Shreveport area is some six or seven hours drive from Austin - but the prospect of an ARDF course that close to us made it worth the trip. The Lake Claiborne Fall Orienteering Meet is actually a Score-O meet, and radio-orienteering was a secondary activity. As it turns out, Jen and I were the only two ARDFers to show up.
Lake Claiborne State Park is near Homer, Louisiana, about 50 miles east of Bossier-Shreveport, north of IH-20. This is one of the hilliest parts of Louisiana, with more elevation change than many of the maps in the Houston area. The mapped area at the state park was not very big, which made it more suitable to a 90-minute score-o course than traditional-length orienteering courses. The forecast for the day was 80% chance of precipitation and thunderstorms. Most of the rain would come in the afternoon, but we did get rained on a little bit while we were on-course. Perhaps the wet conditions discouraged the locals who were expected to show up.
The ARDF course was set by Wayne Hatfield KD5JJP, using transmitter boxes built by Brandon Durden N5WLG. Each transmitter was an HT, a Byonics PicCon controller, and a gel cell battery in a 30cal ammo canister. Three of the HTs were Radio Shack HTX-202s, one was an Icom IC-02AT, and another an Icom IC-02A. All the transmitters used "rubber ducky" antennas, vertically-oriented, and were inside big white trash bags (which served as our visual controls instead of traditional orienteering bags.) Because the park was pretty small, the transmitters were not separated by the usual exclusion zone requirements. Pretty much all of them were within 750 meters of the start, and some were within 400 meters of each other.
Wayne met us in line at registration when he noticed our tape-measure antennas. Wayne told us that transmitter 4 was not working at all, and transmitter 2 was intermittent. As it became evident that we would be the only two competitors to show up for the ARDF course, we just decided to start at 9:30AM and give ourselves three hours.
I turned on my VK3YNG receiver and began walking through the parking lot. I could only hear two transmitters from the start: 1 and 5. Transmitter 1 was the loudest, so off I went down the road to the southwest. I found the white trash bag about 600 meters from the start, on top of a hill some 30 meters or so off the main road into the park. Since I could still only hear transmitter 5, I decided to go back in the direction I thought it might be, based on the bearings I'd been marking on the map, passing Jen (still on her way to transmitter 1) on the road. I was hoping I'd hear another transmitter or two when I got to that part of the park.
My bearings for transmitter 5 mostly put it somewhere along the lake shoreline, probably inside a particular re-entrant. After searching the re-entrant for some time and getting signal strength readings as high as 3 on my VK3YNG receiver, I heard a DTMF tone on the frequency. Wayne had sent the reset command on frequency in an effort to get the controllers of the non-functional transmitters to work. A couple of minutes later, while none of the transmitters were on, I bumped into Jen, who had found transmitter 1 and was now also looking for transmitter 5 in the same general areas as I. A few minutes later, transmitter 1 came on again, then transmitter 2, followed by a minute of silence, then transmitter 4, then a minute of silence. I was so close to transmitter 5, and now it was dead! Frustration! It turns out that I wasn't anywhere near transmitter 5, however.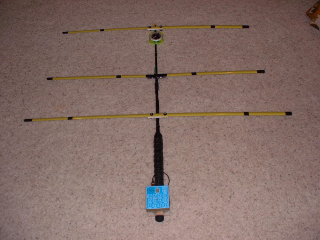 Jen's yagi antenna used for two meter radio orienteering.

Jen decided to hunt for transmitter 4, I think, and not wanting to follow her, I decided to head in the direction of transmitter 2. I had climbed back up the re-entrant to the road and was taking more bearings to 2 and 4 when I heard another DTMF control tone on frequency. Now, transmitters 1, 3, and 5 were alive. And transmitter 3 was really loud. I got a bearing that pointed right at the gazebo used for registration. I went over there, didn't see anything in the gazebo area exactly, and then explored the bush behind the gazebo. When transmitter 3 came on again, the bearing was more in the direction of Wayne's pickup truck a little ways up the hill. Which is where the transmitter was. I think Wayne had carried it there during the previous cycle! (Its original location was out in the woods, of course - Wayne had brought it in to see if he could figure out what was wrong with it.) Jen would also find transmitter 3 at the pickup truck.

I set out again to find transmitter 5, and started in the re-entrant I was in before. Failing to find it there, I concluded that I must be hearing echoes and began to explore up the shoreline of the lake. The lake shore was oriented north-south, and the several re-entrants and streams flowing into it were mostly east-west. I decided to go north, as there were some signal peaks in that direction. I went all the way to the northern end of the map, and even though I kept finding signal peaks in several conflicting directions, they had all gotten less loud (sometimes no more than 1 on the VK3YNG receiver display.) Going back south to the suspect re-entrant, the signal peaked at 3 on my display, and going to the slightly shallower re-entrant to the south of that, it never peaked above 2. I spent the remainder of my time searching both of these re-entrants without success.

It turns out that transmitter 5 was located even farther south, at the far south end of the lake, and what I was hearing in the re-entrants were echoes off the ridges that ran tangentially to the source of transmission. Jen found it eventually, relying more on bearings from higher elevation locations she had visited while searching for transmitter 4 before it went off. I evidently need a lot more practice distinguishing between direct and reflected bearings, or at least I need practice in giving up and widening my area of consideration earlier. So, Jen won, finding three transmitters to my two.

Despite the technical problems with the transmitters, and getting rained on a couple of times, it was great fun to be doing ARDF again. We've only been able to do three ARDF meets in the past three years, so each one is a real treat. Wayne did a great job hiding the transmitters, especially tricky number 5.

One thing that I think Jen and I are finally getting right is our two meter ARDF gear. At our first meet, we used WB2HOL design tape measure yagis, unshielded K0OV design offset attenuators, and Kenwood TH-F6A HTs. This worked OK, but we thought we could do better. At the next meet, we had upgraded to VK3YNG receivers and Arrow Antenna 146-3 handheld two meter yagis. The Arrow Antennas looked cool, had a nice foam handle, and had a rectangular aluminum boom that made mounting a plate for the receiver easy. Unfortunately, the rigid arrow shaft elements did not hold up well in the woods, the handle was not near the balance point of the boom, and the antenna pattern (optimized for forward gain, instead of for a single sharp null) was terrible for ARDF, with several nulls.

This year, we rebuilt the tape measure yagis. I reused the PVC in my old tape measure yagi, added 5" to the rear of the boom, and used PVC pipe hangers to mount a plexiglass plate for the receiver. I replaced the elements with fresh 1" steel tape, and used RG-174 feedline instead of RG-58 (I actually have a die set for RG-174 BNCs for my crimping tool.) With the smaller coax, it was easy to wrap 10 or more turns around the boom right at the feed point to form a choke balun - this kept the pattern from being skewed to one side. We wrapped the rest of the boom between the driven element and the reflector with tennis racquet tape (it happened to be a good balance point as well,) and mounted another small plexiglass plate between the driven element and the director to which I had velcroed a baseplate compass. I downloaded reverse compass bezel overlay graphic from NZ0I's website, scaled it to the right size for my compass (300x300 pixels, as it turns out,) and affixed it with clear packing tape (which happened to be exactly the correct width.)

Jen built a new tape-measure yagi, using a modified fishing rod with a cork grip for the boom. The boom-to-element brackets were quarter-round wood trim (which matched the curvature of the 3/4" tape measure,) notched and epoxied onto the fishing pole. The steel tape was attached to the wood by nylon screws (and some Scotch 33+!) She used two layers of steel tape near the middle for reinforcement. Her antenna also used RG-174 for the feedline and had a current balun wound around the boom as well. She mounted a compass plate between the driven element and the director using more epoxy. Because the fishing pole grip was really long, mounting the receiver plate at the end of the grip still left room to hold the antenna between the receiver and the reflector, which also happened to be a good balance point. Her yagi is noticably lighter than mine. I think a fishing pole boom might be the best way to go - but maybe we haven't quite found the best boom-to-element mounting solution yet.

The tape measure yagis have a really clean pattern, and the VK3YNG receiver is definitely the way to go.

[an error occurred while processing this directive]