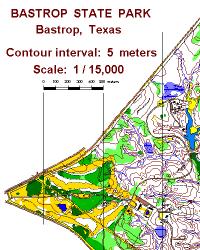 Part of the Bastrop State Park orienteering map, early 2000s.
In the summer of 2000, my fiancée and I were hiking the trails in Bastrop State Park, when she noticed what we discovered was a permanent orienteering marker at the edge of a field. She remembered orienteering as a Girl Scout, and I thought it sounded like fun, so we signed up for an "Introduction to Orienteering" course offered by the University of Texas Informal Classes, and then participated in an two-day orienteering meet held at Bastrop State Park that October. We became active with the Houston Orienteering Club (HOC), as there was no active group in Austin at the time.
Today, my wife and I are both members of Orienteering USA (OUSA), the national organizing society for orienteering in the United States and founding members of the Austin Orienteering Club (AOC). We have competed in traditional on-foot orienteering meets as well as radio orienteering (ARDF) meets all over the United States and the world. I have competed at events in California, Colorado, Georgia, Indiana, Kentucky, Louisiana, Massachusetts, New Mexico, North Carolina, Ohio, and Texas in the United States and Bulgaria, Canada, Croatia, Kazakhstan, Korea, New Zealand, and the United Kingdom internationally.
One of my particular interests in the world of map-and-compass sports is radio orienteering. In radio orienteering, also known as Amateur Radio Direction Finding (ARDF), competitors use a hand-held radio receiver and antenna, an orienteering map, and a compass to locate Amateur Radio transmitters hidden in the woods. I have competed or been an organizer for almost all of the USA championships since 2002, and have been to four World ARDF Championships.